Connecting the music industry
Good contacts are an important key to success. With Music2Deal you can connect with thousands of professionals in the music business. JOIN US and come introduce yourself, and your music or company. You can also find or offer songs for licensing or discover new artists, songwriters, producers, or vocalists for new projects. Create new deals and partnerships, locally and internationally.
See who's joining this exclusive music community and explore the benefits.
Music2Deal News
Feb 25, 2014 - Preparing A Mix For A Mastering Engineer by David Jones / Mix Asylum
This topic doesn't so much relate to production techniques, but is about the final stage in the production chain, Mastering. It is perhaps something that people take for granted ("if I've got a good enough mix, the mastering engineer can fix it") but it is in fact a much more delicate and important [...]
Feb 25, 2014 - 5 Ways To Promote Yourself Or Your Company & Build Your Network at The Same Time
We want you to get the most out of Music2Deal so we're repeating this - just in case you missed it the first time... So how can you take advantage of being on Music2Deal? Here are 5 ways to promote yourself or your company and build your network on Music2Deal at the same time.
Feb 25, 2014 - Interview with Music2Deal member, Hellmut Wolf
"The Wolfman" is an extraordinary artist whose career spans over four decades and four continents. He started as flute player and then quickly picked up the Saxophone as second instrument back in his hometown Koblenz in Germany...
Feb 12, 2014 - The New Update is Live!
Take advantage of the new Music2Deal by updating your profile for the matching tool and showcase one music offer for free! Go to Edit profile and update your profile. (Be sure to include a photo on your offers!) We've already started hearing from members who are connecting better, now with the new m[...]
Feb 12, 2014 - Can You Hear Your Brand? - Article by Lars Deutsch
Audio branding, also known as sound branding or sonic branding, is the use of sound to reinforce brand identity. Sound branding is increasingly becoming a vehicle for conveying a memorable message to consumers by taking advantage of the powerful memory sense of sound. The audio logo is one of the to[...]
Feb 12, 2014 - What You Should Be Doing To Promote Yourself - That You're NOT
Of course, just about everyone is on Facebook - and it's up to you whether you wish to use it for business or more just for personal use. And depending on your focus, there are many other sites where you can have a profile and promote what you do. Through my personal experience, and after years [...]
Jan 29, 2014 - Coming within hours: New Opportunities for you with the big Update
With Music2Deals's new update, you'll have more opportunities for connecting with others in the industry networking and making music deals.
Jan 28, 2014 - Costa Rican Composer Signs Indian Artist
Earlier this month, Costa Rican composer Franklin Ortiz, who has long since been a Music2Deal member, has signed one of India's emerging artist's, Kuhoo Gupta. Kuhoo also happens to be a Music2Deal member.
Jan 15, 2014 - NARIP Music Supervisor Session with VH1's Logan (Jan 29)
Music supervisor Paul Logan is NARIP's special guest at the NARIP Music Supervisor Session in Paris.
Jan 15, 2014 - Conference Do's & Don'ts (article by Allen Johnston)
Music Conferences today have become big business for the individuals and companies that put them on. Almost every conference created has an educational component, a seminar, panel discussion or technical workshop. Here lays the problem, why pay good money to come to a conference with positive semin[...]
What our members are saying about Music2Deal
Video Tour: How This Music Community Works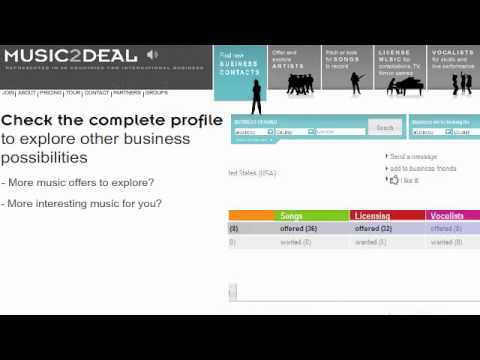 Registration