Connecting the music industry
Good contacts are an important key to success. With Music2Deal you can connect with thousands of professionals in the music business. JOIN US and come introduce yourself, and your music or company. You can also find or offer songs for licensing or discover new artists, songwriters, producers, or vocalists for new projects. Create new deals and partnerships, locally and internationally.
See who's joining this exclusive music community and explore the benefits.
Music2Deal News
Dec 4, 2013 - Interview with Thomas Rodenbach
Thomas Rodenbach is a singer/songwriter who was recently signed with the help of Music2Deal. Read his story here...
Dec 4, 2013 - Write an article for Music2Deal!
Since our platform is all about connecting and getting deals, we've decided to open things up a bit and accept article contributions from our members.
Dec 4, 2013 - ICON & Music2Deal proudly present a special interview with producer Alan Parsons
Alan Parsons, the British musician and producer, worked as assistant engineer on The Beatles' Abbey Road and Let It Be albums (not to mention producing Pink Floyd's "Dark Side of the Moon"!). In an interview with ICON he talks about what it was like working with The Beatles and the recording of Abbe[...]
Nov 19, 2013 - Interview with Steve Bootland (Music2Deal's new representative for Portugal)
Steve Bootland, our new representative for Music2Deal Portugal, is the Brand Manager of the company "The Portugal Music Scene", an International Development/Consultancy & Management Service for Portuguese acts. He discusses his industry experience and his work as a representative with Music2Deal.
Nov 19, 2013 - New Online Degree Programs from Berklee College of Music
Berklee Online, Berklee College of Music's award-winning extension school, is now offering Bachelor's degree programs online.
Nov 19, 2013 - How To Get Your Project Marketed & Promoted (by Allen Johnston)
Online marketing and promotion has changed once again, and for you readers that imagine you can get it right one time and make a huge fan base "FORGET ABOUT IT". Getting your music, film, or fashion project marketed today takes a combination of hard work, online technology, and physical networking.
Nov 6, 2013 - Brandit offers 10% off its mobile apps to Music2Deal members
Brandit Portugal, recent new partners of Music2Deal Portugal, has welcomed their new partnership with this offer of a 10% discount on Mobile apps to M2D members.
Nov 6, 2013 - New! Berklee Online Musician's Guide - download for FREE
Berklee Online just released the brand new and free downloadable handbook, the Berklee Online Musician's Guide. It covers many music areas including music theory, keyboard, guitar, songwriting, music production and music business.
Nov 6, 2013 - Member News: Record deal signed with help from Music2Deal
Thomas Rodenbach, a member of the Music2Deal community, has received a recording deal due to the support of Music2Deal. In Germany, the first single is out now and the album will be released in November. An interview with him is planned and we will report about it soon. Got NEWS? We want to know[...]
Oct 22, 2013 - Catch Billboard's Music Conference on October 29-30 (Discount for Music2Deal Members)
Join Billboard and the Hollywood Reporter as they bring the 14th Annual Film & TV Music Conference to W Hollywood, Los Angeles, CA. The Conference offers attendees the unique opportunity to learn from, network and expose their music directly to the best music supervisors, composers, directors, music[...]
What our members are saying about Music2Deal
Video Tour: How This Music Community Works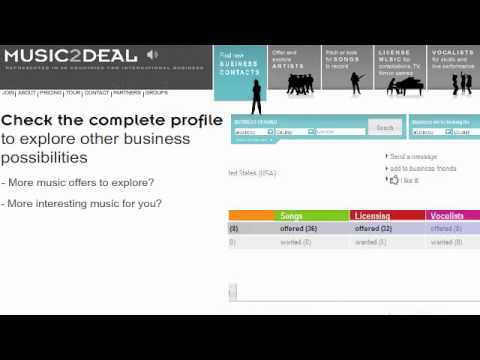 Registration
JOIN
now for
FREE!